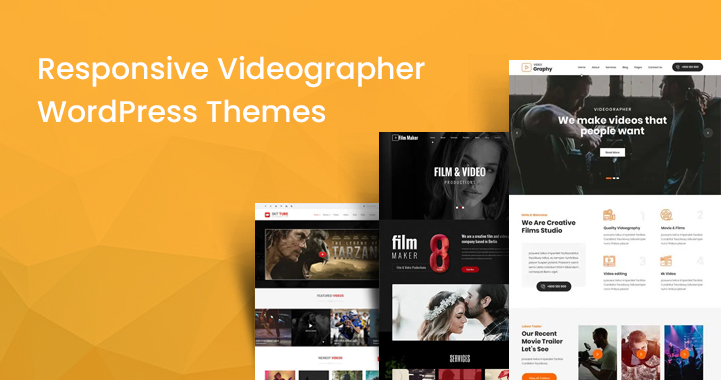 If you are looking for the best Videographer WordPress Themes, so you have on the right webpage. This post will share the 12 best Videographer WordPress Themes you can choose to come up with an attractive website.
With advancement in technology, you need to be well-equipped with tools, creativity, and content that stands out from the crowd. Moreover, you have to monetize your content whatever you produce so your efforts won't wither away. Therefore, you have to invest in an attractive website that strengthens your portfolio and improves sales.
You're a videographer hence your website should match with the standard of work you delivered. However, creating a website from scratch is exciting but time-consuming and might give you the best. With the given list of Videographer WordPress Themes you won't need to worry about anything. All of the themes are crafted with popular widgets, fonts, shortcodes, and more.
Furthermore, the given themes simply boost up the functionality of themes. So choose from the well-researched and most used Videographer WordPress Themes that help you get most out of being online.
Videographer WordPress Themes 2021 You Can Use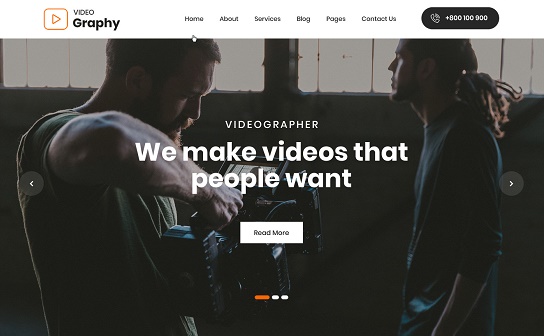 If your business is about creating videos, editing videos, or a similar kind of video production business, you need a strong online portfolio. This is why we recommend you pick the SKT Videography Pro production WordPress theme. This theme is very simple to use, easy to install and customize.
It is a well-designed theme that maintains the standards of using WordPress 5.0. On the other hand, the theme is featured with blogs and is full of slides along with images that can express your business Motto visually.
Furthermore, you can build an online presence of your business with the theme. This will ensure the web that your website looks great on every modern device, which is already retina optimized.
Features:
It includes form builders including WP forms, contact form 7, calendar forms, and Ninja forms.
Incorporates slider plugins such as Meta slider, smart slider, crelly slider, and more.
Contain multiple tools especially the security plugins to give away complete protection against the content.
On the landing pages, the video content can be easily extended in the theme
It offers a default design that looks impressive and attractive.
You can customize the theme as per your preferences.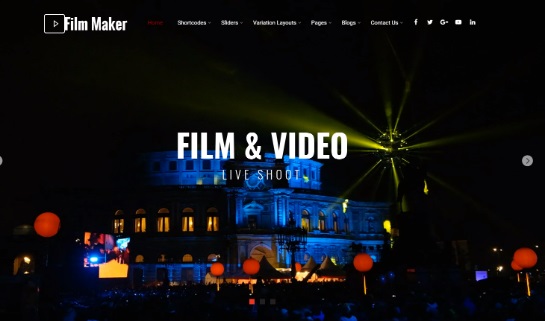 The FilmMaker is yet another popular Videographer WordPress theme, you can choose for promoting your content. If you are a videographer, you want to build an online presence, visibility then filmmaker is one of the best choices you have.
This translation-ready theme comes with various kinds of features, especially in Guttenberg that can provide you with the right use of the website.
On the other hand, the Color Picker tool is there so you can change the color of the theme. It is easy to use, has in-built shortcodes, and WooCommerce compatible features that are just amazing to explore.
Besides, the theme is provided as one of the most astonishing themes right now, because this website is tested with high-resolution processes like LED and plasma.
Moreover, you will not need to worry about the maintenance because the customer support is there and also provides you complete updates for a year.
Features:
The website would be SMO friendly and SEO optimized.
The theme is tested and approved.
With this, you can easily sell the service of yours to the third-party.
The installation is free of cost.
The slider plugin and other page builder are also included.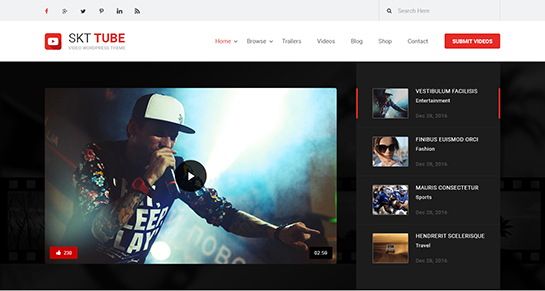 SKT Tube is also a WordPress theme that has nice features and options. It includes 32 variations that build video sliders and provide you with varied types.
It includes translation ready and POT files that easily change the strings to any language. Also, it contains video short codes that improve your choices of setting up the site.
Further, it has posted videos which include from the YouTube, Vimeo, and Dailymotion sites. On the other hand, the site layout options like box and fully wider.
Also, it gives contact form or inbuilt shortcodes. You will also change the blog creations, the HD really theme, and high resolution that will improve your customer base.
Features:
Get five levels of dropdown and make the navigation easier for the customers
Use standard pages like 404 and other kind of pages for the searchers
Get HD and high resolution ready templates
Find multiple page layout and site layout options
It is fast to load even on the customizer tool.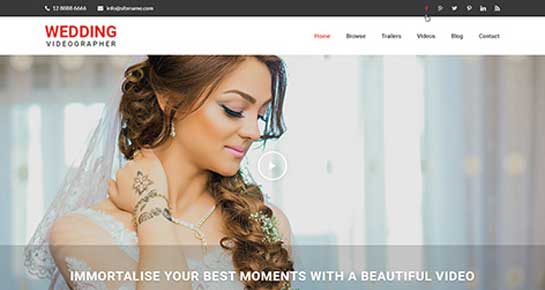 If you are working in a particular Videography, which is a wedding then don't forget to try the Wedding Videographer WordPress theme. The theme is compatible with every device and browser.
It has fonts changing with more than 800 + Google fonts. Further, it is a colour changing theme that will provide a lot of experience to explore sites in different ranges.
Besides, the theme includes multiple shortcodes so you don't need to play with coding. The inner page banner area is dynamic and can load images, video, slider, and any type of content.
The best of this includes a multilingual compatible plugin which is WPML and a lot of page builders that make your site easy to load and attractive for any one.
Features:
This is very simple and easy to use.
You will get six other type of independent slider plugins
This will get a default slider that has 12 + options.
The site is compatible with social media and Search engine optimization features
You will get free installation and 1 year of customer support.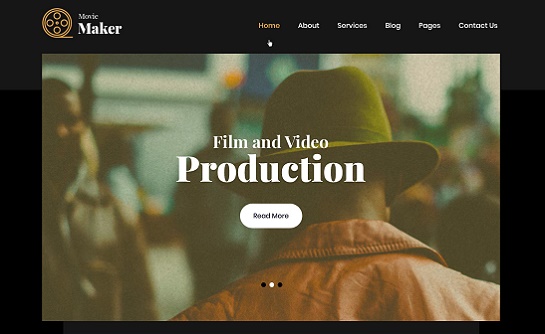 SKT MovieMaker is the most useful production or Videographer WordPress theme which is best for the companies like movie studio, filmmaking, actor, dancer, and entertainment websites.
It has design and attractive layout and makes your customers more attractive in your content. It has a colour picker option that provides every new appearance to the business website.
Moreover, the theme is already optimized for Google with SEO optimized tools to gain the huge website traffic.
The WPML plugin is incorporated, so you can convert your site into multiple languages. You can even change the colour font style in various CCS elements to know the code.
Additionally, it offers dark and light themes that make your video content more impressive. This theme is easy to use and navigate for your customers.
Features:
Modern themes are full of features.
Its layout ensures the engagement of a large number of audiences.
This will support essential plugins like mailchimp, essential grid, and gallery plugin.
It provide you different styles roles such as mobile friendly and cross browser compatible theme
With the SKT movie maker you will be able to add the countless costs in your list.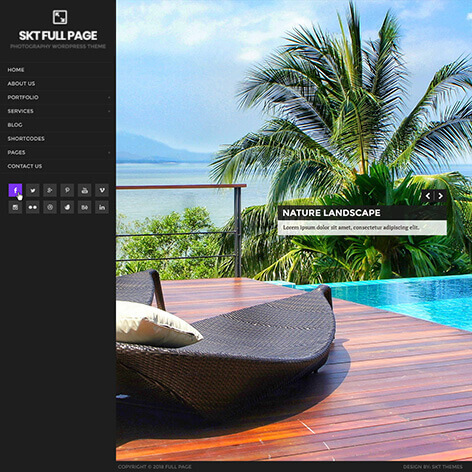 Full page bro is a multi-purpose Videographer WordPress theme that can be used by various industries and websites related to the same niche.
This has a compatible template that will work with the latest plugins and ecosystem. This theme will have a decision on the full page theme and easily set up over the 30 + blogs on any page or post.
Furthermore, the page templates are full width wide and include shortcodes. So, you won't need to stress about playing with codes. The call to action plugins, SEO friendly coding, and SEO optimized plugins are compatible with the theme.
Features:
Free installation of themes is provided.
It provides cache plugins like WP fastest, w3 total cache, and WP rocket.
Includes fancy animation
It includes codex theme review standards.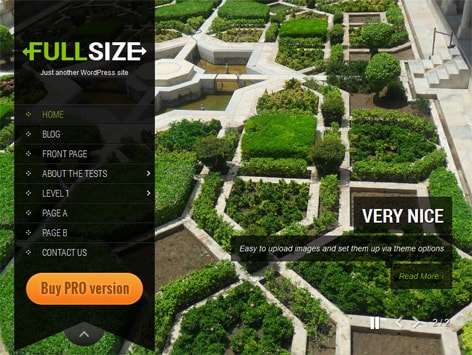 This is a fully responsive and Google tested theme you can use for your studio website. The theme is highly compatible with the master slider, cyclone slider, and slide shows.
This has customizable features that help you to edit your website whenever you want. The PRO has the ability to add 50 more slides on the homepage. This is a Favicon management and provides a highly compatible theme with the latest version of WordPress.
Moreover, the unlimited slider and portfolio plugin which are compatible and ensure you can add whatever you want. This is a highly compatible and WooCommerce supportive plugin that allows you to generate more profits from the website.
Features:
It include 50+ social icons
It is integrated with 600 + Google fonts
Change of background as well as opacity
You can change the slider transition intervals and many more
It include Favicon management
Coded with HTML and CSS3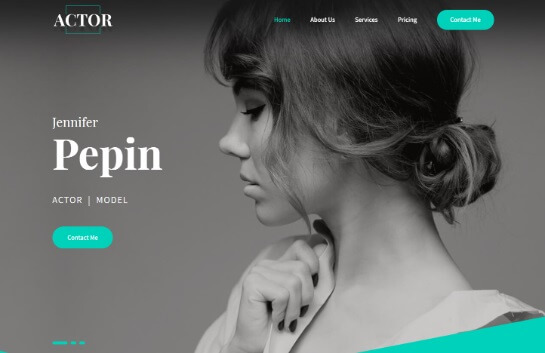 SKT actor is one of the best Videographer WordPress themes which improve your live portfolio. This theme has a number of elements that can be used for creating the functionality of elementor page builder.
The theme is becoming more popular and used for customizing the theme pages. If you really want, you can create a login, registration form, and profiles. Moreover, with this you will get 900 plus Google fonts option, translation plugin, and various features as below.
Features:
It is responsive and provide you every screen resolution
It include translation plugins
Retina and HD Ready theme
Include social media buttons
this will help you drive more traffic
it prevent cyber attacks
Page load speed is fast
Optimized and tested with many speed tools.
Related Post: 18 Most Beautiful WordPress Themes for 2021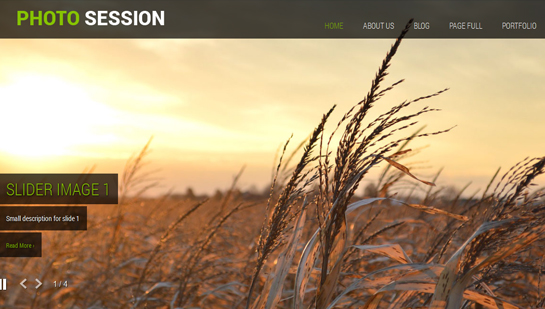 This is a fully responsive and highly compatible Videographer WordPress theme you should check. The theme has colour changing features that have various theme options.
It supports better customer support email and Skype. Also, it is fully compatible and provides you with lots of shortcodes. Further, social media is highly integrated into the theme. Moreover, it has standard pages like 404 and search.
Features:
This is integrated with social media plugins
It is compatible with the latest version of WordPress
The theme is coded with it is HT
Coded HTML5 and css3
You will find three types of gallery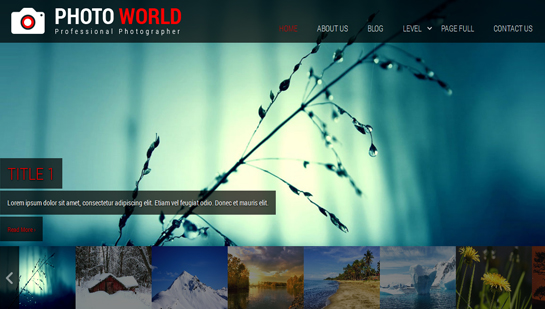 Photo World Pro is one of the suitable and active Videography WordPress themes, which is completely best for your business. This is compatible with popular plugins like WooCommerce and contact form 7.
It offers you compatibility, integrated with social media plugins, and super easy to use options. In the theme, you will get standard pages like 404. The contact form and captcha spam is easy to explore.
Features:
This is highly optimized theme for every browser and device
It will provide you the customer support
It has default captcha and contact form
The one can use a gallery plugins
The contact form plugin can be real and easy to handle.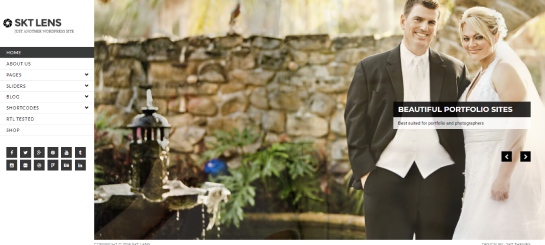 SKT Lens Pro is a multilingual and compatible Ready theme which is tested with other languages like Arabic and Hebrew. This has various slider plugins, master slider layer, and revolution slider with HTML5 and css3.
Moreover, the theme is simple and user-friendly. Plus, the theme is completely extensively documented so you won't find any issue while creating your website.
Features:
You will get multiple header footer and page layout options.
This is a child ready theme.
It is coded with codex standards.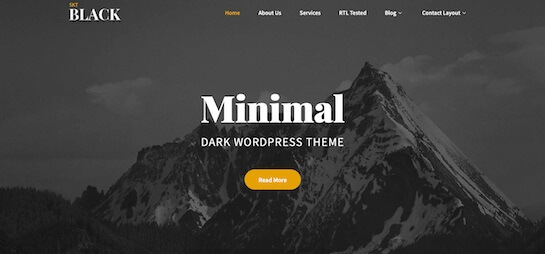 It is fully responsive and elementor page builder uses themes which make it easier for you to load the theme and provide easy access.
Further, the theme is wonderful because it is loaded with css3, animation features, and makes the thing look better. Furthermore, it includes the default gallery and inner pages.
Features:
It has icons pack includes standard pages.
This is eCommerce ready dark and black theme
Include hundred plus shortcodes
It is a retina ready theme.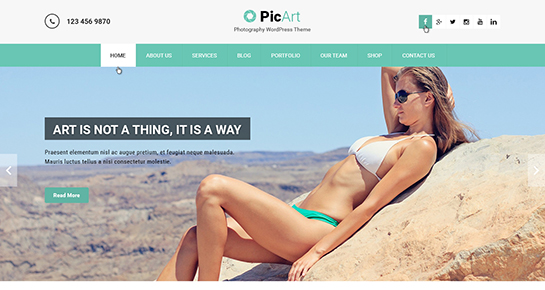 If you are in the business of photography and Videography then PickArt is the best to showcase your skills beautifully to the customers.
This is easy to set up, easy to customize, and allows you to make changes. Further, the standard pages are also available and you can set up the side whatever the way you like.
Features:
Come with 3 readymade portfolio
Translation ready and POT file available theme
Compatible with WooCommerce plugin
include ninja forms, five types of header and footer variations